Treasures from across the world and throughout time
A significant part of the Museum's collection of more than 700,000 artifacts and specimens pertain to the Greater Niagara Region and form a record of life in all of its forms in anthropology, botany, geology, and zoology. The collection provides a representation of the present and past natural and cultural history of the Niagara Frontier and adjacent Ontario, as well as material of worldwide provenance of value in teaching, exhibition, and research.
The Buffalo Society of Natural Sciences has been collecting since 1861. The results are housed in six curatorial divisions; Anthropology, Botany, Geology, Vertebrate Zoology, Invertebrate Zoology, and Special Collections. As an AAM accredited institution, we are committed to the care and management of the Museum's accessioned collections, which are held in perpetuity.
In addition to the Research Collection of c. 700,000 belongings, objects, and specimens, the Museum also houses a Teaching Collection of c. 5,000 objects, which is used for hands on programming, travel to schools, workshops, and use by the general public. Appointments to access the collection can be made through the Collections Team. Research inquiries are welcomed through our online form.
Want to know more about how a museum cares for its collection? Check our events calendar for upcoming Collections Live! programs (included with admission) to meet the staff and volunteers and learn what it takes to look after such a diverse array of materials.
Anthropology
Anthropology, c. 120,000 belongings and artifacts
The Ainu collection of c.77 items is the tenth-best collection of its kind according to a survey by the Smithsonian Institution.
The P.G.T. Black collection of c. 6,200 items is among the top 5 collections of South Pacific material culture in any museum.
Renowned Chinese collection of c. 4,250, which includes a leading collection of Neolithic jades and the second best collection of Chinese Cricket Cult paraphernalia known in a museum.
S. H. Weeks collection of ethnographic textiles, c. 3,000
Knox Money Collection, c. 2,500
Botany
Botany, c. 120,000 specimens
The Clinton Herbarium is the ninth oldest herbarium in the US
Largest collection of plant specimens from Western New York
Largest and best regional collection of Boletes in the United States, which includes many type specimens
Visit our Clinton Herbarium Catalog here.
Geology
Cataloged Fossils c. 27,600
Hiscock Site Collection c. 125,000
Rocks, Gems, Minerals c. 12,200
Hiscock Site Collection illustrating more than 13,000 years of the flora and fauna of WNY
Second largest Eurypterid collection in a museum, c. 950 examples
Zoology
Zoology (Vertebrate & Invertebrate), c. 170,000 specimens, preparation types include pinned insects, taxidermy mounts, study skins, osteology, freeze dried and fluid preserved.
Focus on the fauna of the Niagara Frontier
All known regional species are represented
Strength is in ornithology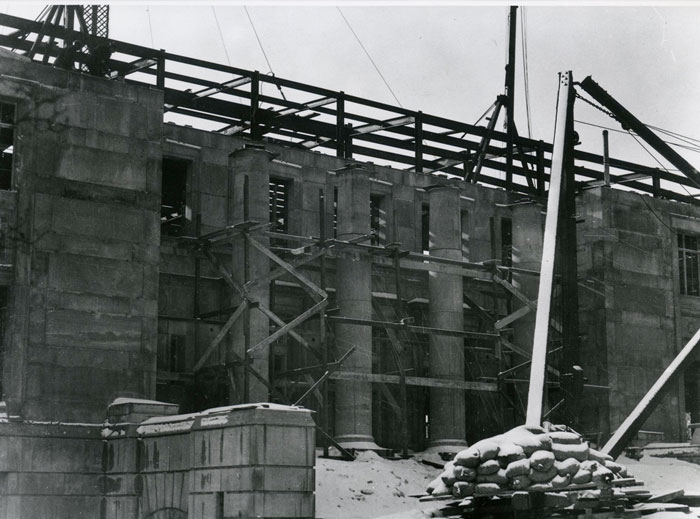 Special Collections
Paintings c. 100
Photographs c. 130,000
Microscope Collection c. 50
Microscope Slides c. 3,200
Glass Photomicrographs c. 5,000
Wilson A. Bentley Collection of Photomicrographs of Snowflakes

Visit the Wilson A. Bentley Collection Catalog here.

WPA Paintings on famous scientists
Historic images of the City of Buffalo and the Buffalo Society of Natural Sciences.
Research Library
Serials c. 30,000
Monographs c. 10,000
Archive of the Buffalo Society of Natural Sciences
Rare Book Collection
Hamlin Archaeological and Oriental Library
Visit our Research Library Catalog here.